About Us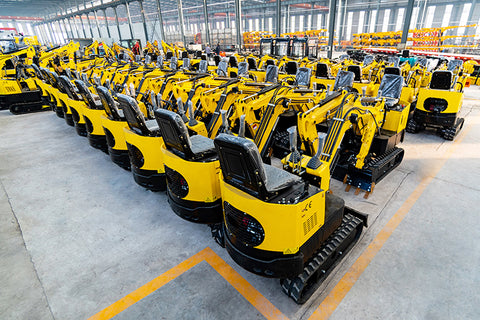 Dongguan Emore Technology Co., Ltd. is a large engineering construction machinery and equipment manufacturer integrating scientific research, production and service. Headquartered in Dongguan City, Dongguan City, Guangdong Province, it is a "professional, refined, special and new" honor enterprise and a key project introduction enterprise in the Economic Development Zone. The main products include: engineering machinery product line, spraying equipment product line, agricultural machinery product line, etc. The engineering machinery product line mainly produces small excavators ranging from 1 ton to 3.5 tons, and the spraying equipment product line mainly produces hydraulic or pneumatic two component polyurethane high-pressure spraying equipment. Yifeng supplies approximately 8000 small excavators, 500 spraying equipment, and 500 intelligent lawn mowers to the market every year.
The Yifeng brand's series of small excavators has maintained a leading position in the export market for 5 consecutive years. The main overseas markets are distributed in Europe, North America, Southeast Asia, and South America. So far, Haituo's products have been exported to 177 countries and regions worldwide. At the same time, Haituo has built 10 global overseas warehousing and distribution bases, including 2 in the United States, 1 in Germany, 1 in the UK, 2 in Spain, 2 in Poland, 1 in Russia, and 1 in Saudi Arabia.
Product quality is our lifeline, technological innovation is our vitality, and striving for excellence is the spirit of craftsmanship that we adhere to. As of now, Yifeng has obtained multiple national patents, 21 trademarks, and 3 copyrights. Since our products were introduced to the market, we have successively passed certifications from internationally renowned institutions such as ISO9001, CE, SGS, TUV, BV, etc. Our products can fully personalized meet the product needs of different international markets.
We always believe that technology will change the world. In the future, we will be committed to becoming an international first-class enterprise, creating contributions to society, creating value for customers, and creating happiness for employees.